~ Written by Margo Smith and published in the July 10, 2019 edition of the Vilas County News Review ~
If you are visiting the Eagle River area with family or friends, you might take a drive down Highway 70 East and enter into a magical place known as "Camp Nicolet."  It won't take long as you follow the winding road under a canopy of green trees opening up their leafy arms to experience the miracle of miracles known as Mother Nature.  She beckons as you head down the entrance road leading to camp.
In 1944, Ann and Wendall Schrader purchased 180 acres of land on the sparkling waters of Franklin Lake.  They had experience working at youth camps, and held onto a vision of a camp of their own.  They worked hard together creating a natural haven within the beauty of the property.  During the World War II years, with eight staff and 37 campers, the tradition began.  75 years later, the Camp Nicolet legacy lives on.
In 1970, Ann and Wendall's daughter, Georgianna (Georgi), joined the newly formed corporation and the traditions continued and expanded.  Georgi's two sons, Jeremy and Christopher Starz, entered the picture as they grew up amidst a camp life that carries a vast array of cultures and customs started by their grandparents and their mother.  Ann and Wendall both passed away in 2001, but you still feel their presence within the spiritual beauty of what is Camp Nicolet.
Have you ever felt like you stepped back in time?  At camp you witness the unspoiled beauty of birds singing during the day and owls cooing you to sleep at night.  Countless stars on a clear night take us on a personal journey that cannot be captured in even the best of snapshots. What childhood memory is complete if not for the sound of a hard rain dancing on a cabin roof combined with geometrical flashes of light across the lake and the thundering of drums playing in the sky?  And those crackling campfires and smells of evergreen bring a special kind of peace.
Summer 2019 begins at camp, 75 years later.  Girls choose from one-week, three-week, four-week, five-week, or eight-week sessions.  If you walk into the Office, you see felt emblems lining the walls from 1945 going forward.  Alumni who are now parents or grandparents will find old photographs in Forest Lodge from their days as campers.  Original buildings still stand, keeping a classic feel.  The picturesque beauty of the property remains due to the careful integration of new facilities with the old.  And you begin to sense the buzz of the activities that are the heart of Camp Nicolet!
Camp accommodates hundreds of girls each summer, but is still small enough that people get to know one another on a first-name basis.  Cabins are cozy and create a home-like atmosphere for the camp friendships solidified within.  Mealtimes are interactive, supportive experiences as manners, thankfulness, respect and joyfulness bring everyone together into the larger extended family.
Every morning all gather alongside the lake for a brief ceremony that includes reflection and raising of the American flag.  This is one of the "quiet" traditions.  Each afternoon there is "rest hour" scheduled for girls to write letters home (remember, no texting here!), to relax, and recharge.
Walking along the shores of the lake, you will happen upon sailing and stand-up-paddling, water skiing lessons, and swimming.  Quiet canoes skimming along the lake juxtapose the roar of the Nautique ski boats as a barefooting lesson is in progress.  Lots of laughter and friends just being friends permeate the air, no matter what area of camp you visit.
In the Dining Hall at mealtime, you witness Chef Dennis and crew serving up an array of tantalizing choices to match any taste bud, American or International.  Birthdays carry a lunchtime celebration with an original song and celebration unique to Camp Nicolet.  I'm not going to let the cat out of the bag here, but "round the table you must go!"  Self-sustainability, anyone?  An organic garden is located steps from the kitchen.  Healthy eating is encouraged, and many of the girls have gotten their fingers dirty maintaining fresh herbs and vegetables served at meals later in the summer.
Diversity in many forms is celebrated at Camp Nicolet, whether it's through food in the Dining Hall, talents on stage in the Little Theatre, or uniqueness of projects in the Arts & Crafts Shoppe.  It is celebrated in respecting others and through emphasis on individual strength and the appreciation of the unique gifts and talents of everyone in the camp community.
The Stables with the magnificent horses that occupy them afford each girl the opportunity to participate in horseback riding and extra lessons if she chooses. A camp tradition is the annual Horse Show toward the end of the summer, featuring the girls displaying their carefully honed equestrian skills.  If you are more of a horse observer than a horse rider, you still can't help but appreciate the spectacle of these beautiful animals and their riders making that difficult jump or turn together.
More of a water person?  In 2004, Christopher Starz established the Northpoint Wakeboard and Water Ski School as a separate business.  While Christopher was tragically killed in an auto accident at age 22, his brother Jeremy and mother Georgi have kept the tradition alive, integrating his vision into camp's regular program.  Georgi is an active water ski instructor holding a USA Waterski Level II coach certification.  She, along with veteran staff, provide top-notch ski and wakeboard instruction.  An annual Water Ski Show featuring campers and staff is held each summer along the waterfront.  Water skiing, wakeboarding, and horseback riding are among the most favorite activities at camp.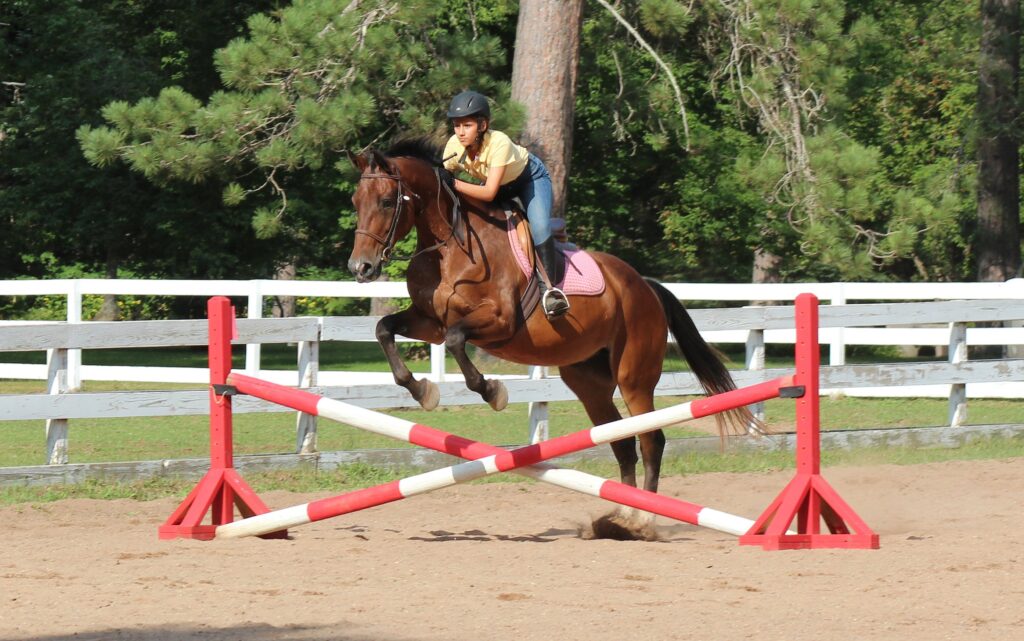 Northpoint Adventures is Camp Nicolet's wilderness tripping and outdoor adventure program.  Jeremy Starz is a driving force behind these adventures, which include optional backpacking trips to the Porcupine Mountains, the Rocky Mountains in Colorado, and Isle Royale National Park.  Paddling trips explore the Sylvania Wilderness, the Apostle Islands National Lakeshore, and the Boundary Waters of northern Minnesota.  The girls learn outdoor survival skills, teamwork, and environmental responsibility while building lifetime friendships and building on the recognition of each person's power of self.  There are few therapies as beneficial as breathing in the cold, crisp air next to a river cutting through a mountain or the gentle spray of a waterfall misting you on a hot day.
What about technology at camp, you might ask?  Parents can visit the website, see pictures of activities and events posted online, and call their daughter on her birthday.  Letters and postcards from home are always appreciated!  That said, Camp Nicolet provides girls a much-needed break from handheld devices, blow dryers, online chats, and the related anxiety it all perhaps leads to in today's world.
Camp Nicolet is safe. Safe from online bullying and technological cruelty in its various forms.  Friendships that last a lifetime blossom at camp as the art of interpersonal communication is emphasized. Technology is replaced with campfire songs, theatrical productions, tugs of war, tennis matches, and exchanges with other camps to participate in canoe races or soccer games.  Art classes allow self-expression, and instructors teach anything from pinecone art to bead working.  You will see campers braiding each other's hair at the beach.
Talking about safety, all staff are trained by an American Red Cross certified First Aid and CPR instructor before the campers arrive.  Systems are in place to protect and account for the whereabouts of the girls or to communicate in emergency.  Two-way radios used by counselors in different areas on the grounds and a large bell audible across Franklin Lake merge the old with the new to ensure rapid response if necessary.  A Camp Nurse oversees general health, cleanliness of cabins, and medications.  They tend to the sick in a building named "Patches" designated for that purpose.  Nicolet is accredited by the American Camp Association, meeting or exceeding over 300 operational standards set forth by the organization.
Staff are held to high standards in modeling healthy living and appropriate behavior.  The talents they bring to camp are as diverse as their backgrounds.  Many campers of high school age become "Counselors in Training," eventually working toward spending summers away from college being "on staff."
Families may apply for Camperships which are funded through the Camp Nicolet Foundation and the Christopher Starz Leadership Memorial Fund.  In part, the Foundation honors the memory of camp founders Ann and Wendall Schrader, and gifts to this organization benefit girls who otherwise may not be fiscally able to attend a summer at camp.  The mission of both the Foundation and Christopher Starz Leadership Memorial is to provide opportunities for young women to learn and grow in a safe and supportive outdoor environment.  Northpoint Adventures programs challenge campers, helping them gain confidence and the ability to "go further" in their wilderness pursuits; an enduring legacy of Christopher's active and adventuresome spirit.
Similar spirit is present in camp owners Georgi and Jeremy Starz.  They are accomplished athletes, musicians, and amazingly caring individuals who continue the precious, long-lasting tradition of family at Camp Nicolet.  The depth of their combined accomplishments (too numerous to list here) open up a realm of possibilities for outdoor and personal enrichment few entities could match.  From sled dog racing to mountain climbing, radio broadcasting or paddling on the Pacific Ocean; these two have done it together.  How lucky these girls are to know them!
At the end of the regular camp season, Nicolet offers "Family Camp," providing an opportunity for families to enjoy a Northwoods retreat in the beautiful Nicolet National forest.  Families use the cabins, boats, tennis courts, and other amenities to connect with relatives and friends along the sprawling natural sand beach.  Meals are served onsite, in the style of a classic "American plan" resort.  The week is a great way for families to connect amidst the natural beauty of Camp Nicolet; in an environment that is peaceful, safe and simply good for the soul.
If it all sounds too good to be true, visit www.campnicolet.com and see for yourself.  Don't miss an opportunity to explore this amazing world hidden away in the Nicolet National Forest off Highway 70 East of Eagle River, Wisconsin.  Call for an appointment and take a tour.  Step back into Mother Nature's arms.  You will feel the love.