What to Bring?
Getting ready for camp is an exciting process!  We hope you find this guide helpful as you pack your trunks and duffels in preparation for summer at camp.  Items are optional unless noted, and should be labeled clearly with your camper's first and last name.  We are not responsible for lost or damaged items – please keep valuable items at home.  We recommend packing belongings in two soft-sided duffels.
packing list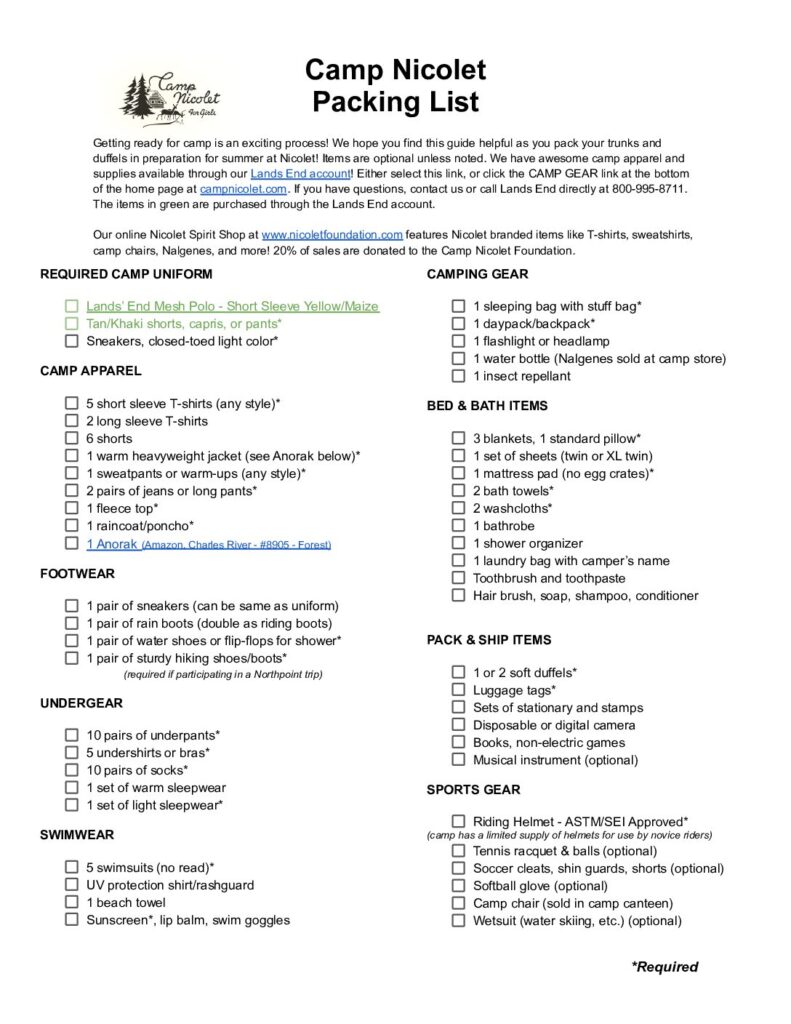 Clothing
The camp uniform consists of a Camp Nicolet polo (in yellow/maize) from Lands End, khaki/tan shorts or pants, and light-colored shoes.  The camp uniform is required, as it is worn for photo day, a weekly Vespers ceremony, and other special days/times.
To order a Camp Nicolet polo click on this Lands End link that will take you to our Nicolet Lands End account. From there select "Show Packing List" at the top. On the left hand side you will see "Required Items". This is where you can find the "Uniform Women's Short Sleeve Fem Fit Mesh Polo". When this shirt is selected it will automatically add the Camp Nicolet logo after you select your camper's size.
Please send a variety of camp-appropriate shirts, sweatshirts, shorts, jeans, sweatpants, bras, underwear, and socks that will get your camper through a week-long stay. Laundry is sent to town each Tuesday and returns to camp on Wednesday. Your camper will also want to have an assortment of colorful clothing and various fun costumes for special days. If you do not have these items, no worries. There is a lot of sharing at camp!
Remember to check out the Nicolet Spirit Shop to get Nicolet gear! Along with the option of getting a Forest Green Anorak jacket!
Outerwear
Weather at camp can be cold and rainy at times. Please send a rain jacket/poncho, a heavyweight jacket, and/or a fleece jacket. We also recommend sending a pair of rain boots.
Swimwear
Please send at least four or five swimsuits with your camper. These can be of any color (EXCEPT RED) and style but must be comfortable and provide enough coverage to wear during activities such as water skiing. Also useful: two beach towels, water shoes, sunscreen, nose clips, ear plugs, swim goggles, and UV protection shirts. We have wetsuits available for camper use, but you may send one if you choose.
Camping Gear
If your camper is participating in a Northpoint Adventures trip, please visit www.npadventures.org and obtain a complete packing list for your camper's specific trip. If your camper is not participating in a Northpoint trip, she should still bring the following: a sleeping bag with stuff sack, a backpack/daypack, a flashlight or headlamp with extra batteries, at least one 32-ounce water bottle, and insect repellent.
Linens
Please send the following with your camper: a mattress pad (not egg crate-style), a set of twin or twin XL sheets (two if you are not sending a sleeping bag), one pillow, at least two blankets of varied weights to accommodate multiple temperatures, two bath towels, two washcloths, and a laundry bag. The laundry bag will be used every Tuesday to send dirty items out and must be labeled with your camper's first and last name.
Linens are provided for all International campers (except the laundry bag).
Bath Items
We recommend sending a bathrobe, as well as a bathroom organizer caddy so that your camper can easily transport shower items to our community shower house. In addition, don't forget shampoo and conditioner, body wash/soap, lotion, a toothbrush and toothpaste, a hairbrush, deodorant, and sanitary supplies.
Sports Gear
If your camper is participating in horseback riding while at camp, we require that you send an ASTM/SEI-approved helmet, riding boots or smooth-soled shoes with a defined heel, and riding jodhpurs or jeans. Shorts, leggings, flip-flops, and sandals are not allowed in the riding area. We do have a limited supply of helmets and boots for use by novice riding campers.
All other sports equipment, including tennis racquets and balls, soccer uniforms, softball gloves, and bike helmets, are provided by Camp Nicolet. However, if your camper prefers to use their own personal items, they may choose to bring them. Personal items will be stored in their cabin and will be the responsibility of the camper.
Other fun items
There are a couple of other items that will help ensure your camper has an enjoyable summer. Those items include a Crazy Creek-style camp chair, musical instruments, stationery and stamps, pre-addressed envelopes and/or address book, a camera, books or other non-electronic games, sunglasses, and a watch.
Do Not Send
Electronics of any kind, hair dryers/straighteners/curlers, expensive jewelry or clothing, pets, food or beverages, drugs, alcohol, tobacco products, fireworks or other flammables, and weapons of any kind.
THE NICOLET SPIRIT SHOP
Inspired and designed by Camp Nicolet Alumnae for the Camp Nicolet Foundation, this online store offers all the Nicolet swag and gear for you and the whole family. A percentage of all proceeds goes directly to the Foundation to help support Camperships and the general Nicolet Mission. SHOP NOW, have fun, and give to a great cause!