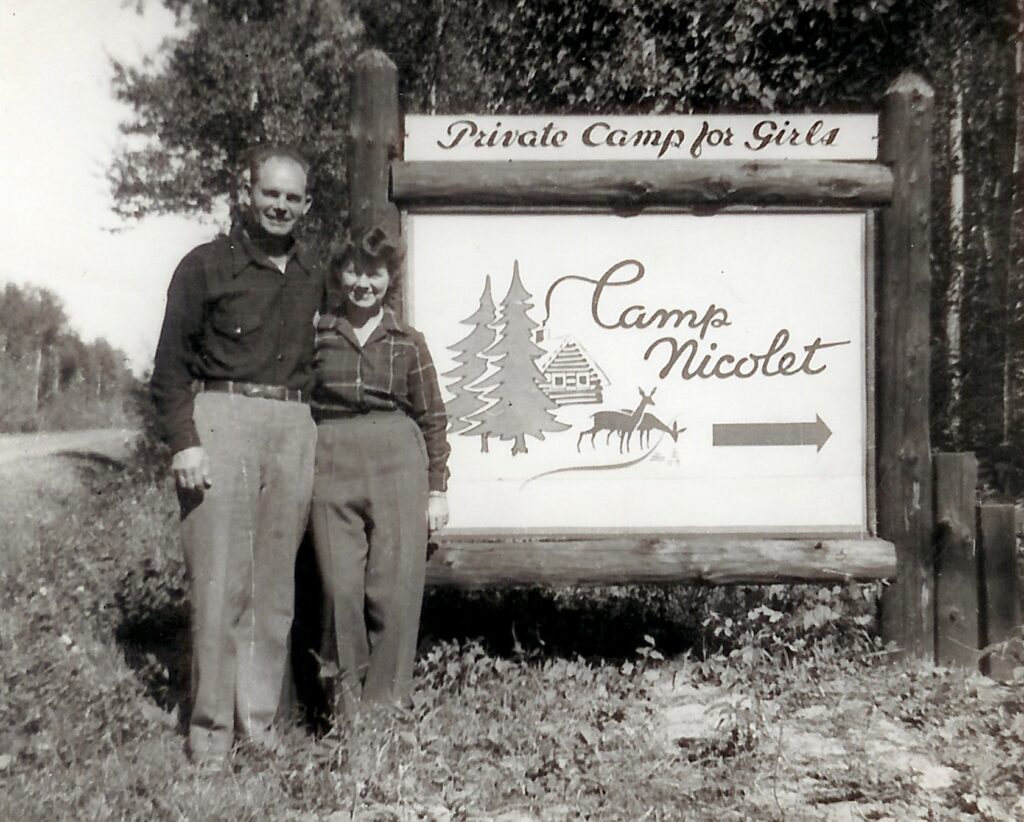 June 16th, 2019. As the big Lamers bus turns onto Camp Nicolet Lane and rolls down the driveway, we will officially begin the celebration of seventy-five years of camping tradition and magical memories.

On a foggy October day in 1944, Ann and Wendall Schrader had the good fortune to purchase 180 acres of pristine forest and two miles of shoreline on Franklin Lake from a very colorful and energetic little lady named "Shorty" Fournier. The property was known as Fournier's Bass Fishing Camp and was frequently visited by outdoorsmen from the southern cities looking for adventure and a vacation in Wisconsin's great Northwoods. Others had tried to purchase from Shorty for the purpose of logging, hunting, or commercializing, but she would have none of it. When hearing that the Schraders wanted to develop a summer camp for children, she immediately agreed to sell them what would become Camp Nicolet for Girls. For many summers, Shorty continued to live on the property in a little log cabin known as "Chickadee" at the far end of camp in what is now Nicolet Village.
It wasn't easy for a school teacher and a high school coach from Illinois to find the financial means to begin a business in such a remote area during World War II. Most camps were meant for boys only, but they agreed that girls also needed to have equal opportunities to grow and learn in our natural environment. They chose the camp motto "Learning to Live Together" as a goal for generations to come. Through much hard work and creative marketing, Ann and Wendall began their first eight-week camp season in 1945 with eight staff and thirty-seven campers. By the following summer, they had successfully doubled that number and thus, the spirit of Nicolet evolved. As daughter Georgianna "Georgi" Schrader Starz and grandson Jeremy Starz are now co-owners of Nicolet, it is unique and fortunate that the same family has continued the legacy left by its' founders, Ann and Wendall Schrader.
Transportation to Camp Nicolet in the early decades began as a camp train from Chicago, then a plane from O'Hare International, and now as camp buses that originate from Chicago and Milwaukee. The log-sided cottages of the 1940s have been gradually replaced or greatly renovated over the years and now include cozy bunkrooms, fireplaces, and bathrooms. The legacy lives on as Mr. Schrader personally built (with a few exceptions) most every bunk that is still used at camp! Alumnae still associate the smell of pine and woodsmoke with falling asleep to a crackling fire in their cabin fireplace or a campfire under the stars.
Thousands of girls and young woman have attended and worked at Nicolet during the past seventy-five years. We now have a global and diverse camp family that shares a sense of pride and common community. This summer we will welcome 175 eager and enthusiastic girls of all ages from all corners of the world and more than 50 staff members, many who have graduated from our own Leadership Program and are now college students. Our staff has collectively accumulated more than one hundred summers at Nicolet!
Stay tuned for more to come about the history, traditions, and current 2019 news at camp. And so the tradition continues…happy 75th Anniversary Camp Nicolet!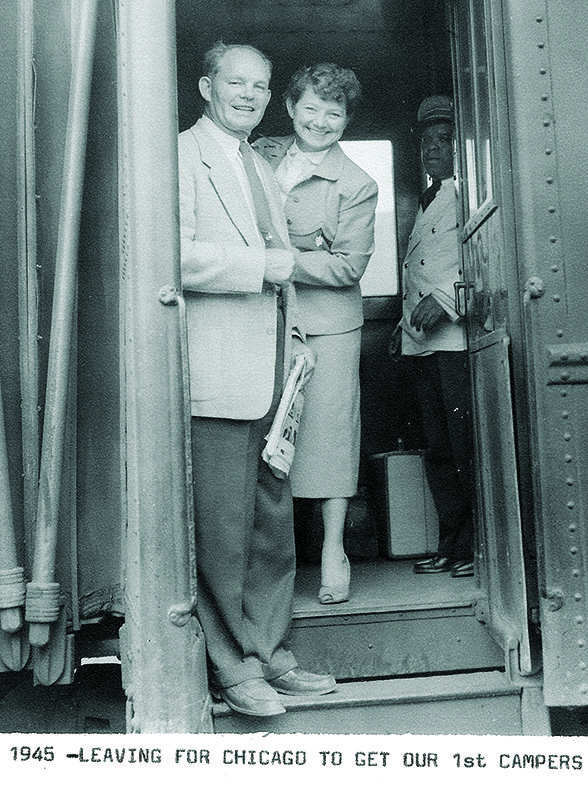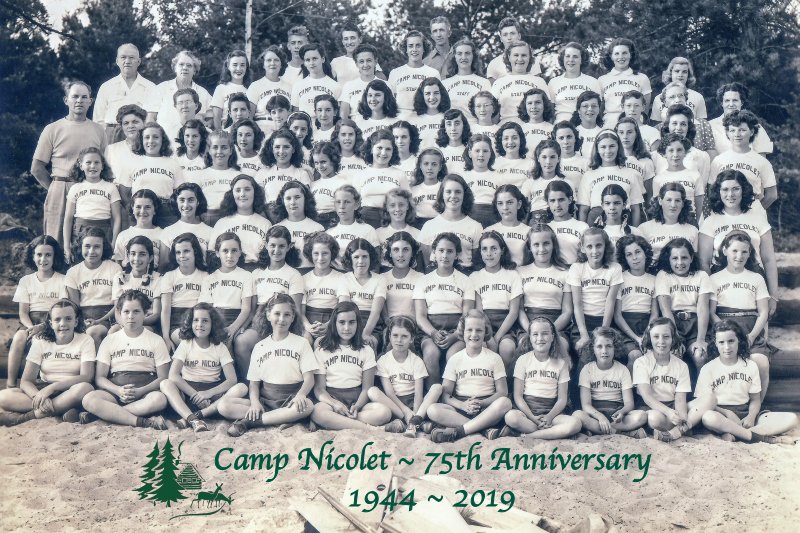 Camp Nicolet Family 1946